Our grateful thanks go to all groups and individuals that have donated to our fund your generosity is greatly appreciated.  Thank You 
Woodstock Youth Club New Building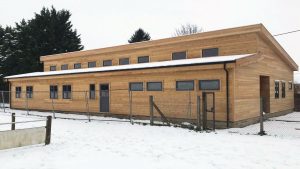 Many of you have taken great interest in our new building project for the Youth Club and we have finally achieved it. Thank you so much everyone for your help, donations, contribution and good will.
However, the work has just started. Our Club is run solely by volunteers who are dedicated to keeping a Youth Club in Woodstock for many generations to come. We can only do this with your continuous help and would be pleased to hear from anyone who may have any fund raising ideas and would like to be involved.
HOW YOU CAN HELP?
WHY DON'T YOU JOIN OUR LOCAL LOTTERY for a chance to win CASH PRIZES
We run a weekly local lottery that to date has raised £10,000 for our project. If you would like to join, please contact Ann: 01993 811823 or Jane: 07787 870253
Woodstock Local Lottery Weekly Draw
Tickets are sold in blocks of:-
13 wks = £13   26 wks = £26   52 weeks = £52
Please make cheques payable to: WOODSTOCK YOUTH CLUB (Local Lottery) – (Click here for more information) –  All profits raised will go towards the new youth club building.
ANY DONATIONS WOULD BE GRATEFULLY RECEIVED
Please make cheques payable to:
Woodstock Youth Centre Recreation Rd Woodstock Oxford OX20 1NY
Contact Details-
Ann: 01993 811823 or Jane: 07787 870253
New Building Grand Opening – Woodstock, Oxfordshire, 10 May 2018
An new youth club building was officially opened, when the Duke of Marlborough ceremoniously cut a ribbon Thursday May 10th to mark the special milestone. It followed up by a weekend of public viewing sessions.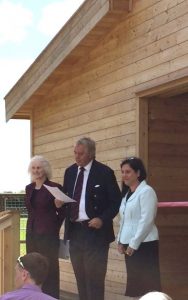 The innovative, modern facility replaces a dilapidated former building. The achievement comes after more than a decade of fundraising efforts specifically for a long-aspired, much-needed replacement building to serve the youth of the Town and nearby areas.
His Grace the 12th Duke of Marlborough, James Spencer-Churchill, Woodstock Youth Centre President, thanked the attending guests for coming and told them he and Edla [Spencer-Churhill, Duchess of Marlborough] were "delighted to be here this afternoon to formally open the new Woodstock Youth Centre. This lovely building is a wonderful example of the Community working together for all the surrounding people of Woodstock and the surrounding villages. I would personally like to thank those involved in making it happen."